The Superior Dental Care (SDC) mobile app provides members with the ability to securely access plan information, view claims, display and print their membership card, search for dentists, and more!
Members currently enrolled in an SDC plan can log in with their existing Superior Direct Connect account or sign up for a new account through the app. The SDC mobile app is available for iOS and Android devices through the Apple App Store and Google Play Store.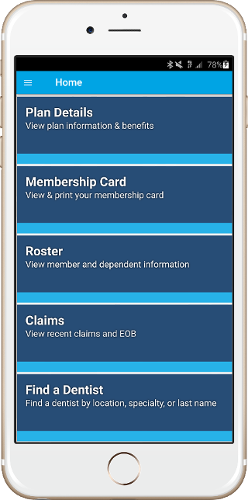 Features of SDC Mobile include:
View plan details and download schedule of benefits
Display your membership card, print it from available wireless printers, or save it to the app home screen for easy access
View your plan enrollment, including any dependents, from the roster
Review claims and download the explanation of benefits for each
Access SDC's Find-A-Dentist to search by city, county, zip code, specialty, and dentist's last name
SDC is dedicated to security. The SDC mobile app uses industry best practices to ensure your benefit information remains private. For added security, the SDC mobile app requires re-authentication after a period of inactivity. iPhone users have the option to access their account with Apple's Touch ID fingerprint scanning.